There are now not one but two places where you can buy Tort Bunnies stuff.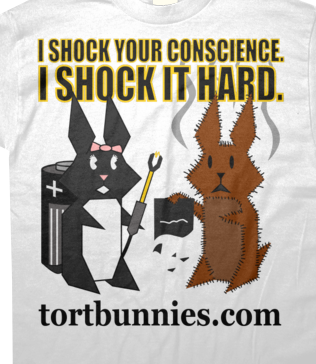 Zazzle has been around for a while. Selection is pretty good and given that I wanted to make posters and not deal with CafePress's premium shop nonsense, that didn't leave very many alternatives. The value t-shirt option is very cheap, but apart from that, things get very expensive, very quick IMHO. You're welcome to pay more if you want though — I am charging a percentage-based royalty after all.
MySoti is a newer print-on-demand site. The prices for their American Apparel branded shirts are cheaper than the same at Zazzle's. Also, word on the Internet is that their print quality is better than Zazzle's, but they have a rather long turn-around time. Their FAQ says not to call them until after 28 days. The selection is a bit more limited too, hence, why I currently only have three shirt designs up here.
Anyhow, I'm going to wait for feedback and some sample merchandise before passing further judgment. For now, you're welcome to try your luck buying from either supplier.