The keyboard on my laptop (a 3+ year old Thinkpad Yoga) recently went on the fritz. My warranty was expired, so I decided to take it into the local shop to get they keyboard replaced.
Big mistake. The owner has no clue how to work with convertibles like the Yoga. He had to outsource the job to another person instead. It took him two days just to get a quote back to me, and the original 3-5 day estimate ended up taking almost two weeks. When I got it back, the TrackPoint wasn't working (TrackPoints are pretty much the main reason I even have a Thinkpad these days). I asked the shop to fix it, but that ended up taking another two weeks.
When I got it back again, the TrackPoint technically worked ("my guy tested it" says the owner) but it still didn't feel right. There was a lot more resistance moving the stick down / right than up / left, and on top of that, the keyboard as a whole didn't lock properly when converting to tablet mode. At that point though, I was pretty fed up with the long turnaround, so I just took my laptop and decided to take a crack and fixing it myself.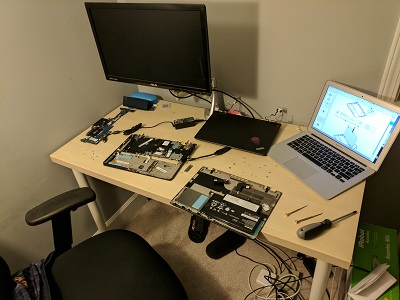 More …